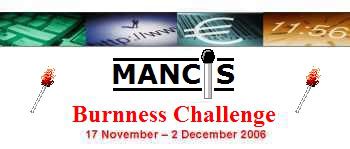 Hello and welcome to the MANCIS Burnness Challenge 2006!
Firstly, what you have to do to enter this competition is to register your team with us at burnnesschallenge@mancis.com by 16th November 2006. Your team members can consist of anybody, from any disciplines, as long as one of the members is a MANCIS member.
How the competition works
If your team is registered with MANCIS for the Burnness Challenge by 16th November, we will give you your victim on the morning of 17th November.
Your first task is to burn the victim's two legs.
This burnness is to be submitted via royal mail to MANCIS headquarter by 11.59pm on Wednesday 22 November.
Five groups will be selected to burn their victim to death on Friday 3rd December to the final burning judging panel. Team leaders will be informed whether or not your group has been selected for the final burning on Monday 27th November at 12 pm.
If you have any further queries over the next before the registration deadline please do not hesitate to contact us at:
burnnesschallenge@mancis.com
(MANCIS Burnness Challenge 2006 Organising Committee).
---
ohhhhh bosan sungguh study..
membuatkan aku kepingin untuk menyongsangkan macfis punye business challenge..
jangan marah yer encik macfis..
ngiahiahia..
gi laa tengok kat
macfis.com
yer
wassalamualaikum..